With Northern Ireland Premier Tours,
You will experience the north coast locations from the Game of Thrones TV Series from a unique and exclusive perspective.
With Northern Ireland Premier Tours you will truly get an opporunity to embrace Westeros, as you live out the tale in the most interactive and customed made Game of Thrones Tour in Ireland. Try your hand at archery, firing arrows with traditional longbows, ride the King's road on an ancient breed of horse and dress in costumes rich in detail, all creating memories and photo opportunities unlike anything you have seen before.
Our guides have unique knowledge and expert opinions on everything from the reason why a certain location was used in the show to what really happened during the Tourney at Harrenhal.
Itinerary
Night Gathers, and now my Tour Begins!!!
Day 1 – County Antrim
8.00am We leave Belfast, Northern Ireland's Capital City.
In the company of your Game of Thrones' Tour Guide[1] who will be with you for the entire day, you'll hop aboard our luxury vehicle and travel north to the first location.
Dunluce Castle (Pyke Castle)
We arrive at the North Antrim coast on the world famous and stunningly beautiful Causeway Coastal Route which is rated as one of the Top Five Road Trips of the world. This castle, draped over a dramatic clifftop, was the scene of many tragic tales so incredible that you might almost believe that George RR Martin himself had written them. Known as one of the most picturesque castles in Ireland, many films have been shot here.
Giants Causeway (Seascapes)
Filming may not have taken place at the Giants' Causeway (although the sea beyond featured in several sweeping shots) but you can't do a tour of the north coast of Ireland and miss the UNESCO World Heritage Site with its unique six-sided basalt columns and the wonderful local legend that is Finn McCool.
Ballintoy Harbour (Lordsport Harbour, Pyke, Dragonstone, Saltpans.)
This single stop on our tour lets you view 8 different Game of Thrones' scenes and 3 different parts of Westeros. You will walk the same footsteps as Arya Stark, Theon Greyjoy, Gendry, Salladhor Sann, Ser Davos Seaworth, Melisandre and the One True King of Westeros, Lord Stannis Baratheon. Fantastic photo opportunities with scenery straight out of the show.
Larrybane (Renly's Camp)
Larrybane hosted several key scenes, including where Brienne beats Ser Loras in Renly's tourney (the melee at Bitterbridge) and is given a place in Renly's Kingsguard as a reward. King Renly Baratheon also swears to Lady Stark that he will avenge Ned's death, but meets his end at the hands of Melisandre's shadow baby; some of the other characters featured here include Margaery, Littlefinger and Ser Davos.
Sheans Horse Farm at the Causeway Coast Discovery Centre
Winners of 2014, 2015 and 2016 Irish Tourism Award, your Sheans experience takes place at the most extensive horse riding centre on Ireland's North Coast. We'll head to the homely Sheans Tea Room first. Here you can relax, chat and enjoy lunch before moving on to your Game of Thrones Experience Workshops.
You will be able to pick and choose which you want to do. No previous experience is required!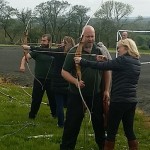 Archery
Use traditional longbows under the direction of a master archer. We'll do much more than simple target practice as our instructors take you through various medieval archery scenarios such as defending your team from a wolf attack or a king's boar hunt.
Horse Riding
The freedom and fun of learning to ride horses on an off-road trek and the buzz of mastering the rising trot back at the centre is ideal preparation for the opportunity to get photographed in costume on horseback at the nearby Dark Hedges (King's Road).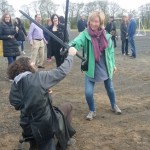 Sword Fighting
Stick them with the pointy end! Learn the 'water dance' or swordplay with combat-trained stage professionals. We'll practice some basic stage combat moves and learn how to handle a sword. We wouldn't advise you seek out the king slayer for a duel afterwards, but when winter comes, you'll be ready!
When ready we will move on to:
The Dark Hedges (King's Road)
In Season 2 we first saw this beautiful, haunting avenue of beech trees. This is where Arya Stark, dressed as a boy, escaped from King's Landing in the company of Yoren of the Night's Watch, Gendry, and Hot Pie. Dressed in themed costumes, carrying swords, spears and longbows we'll tread a real Westorosi road, on horseback as lord of the land or on foot like a hedge knight.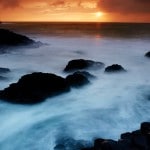 Cushendun Caves (The Stormlands)
In season 2 the Game of Thrones crew filmed the dramatic scene here in which Ser Davos Seaworth (the Onion Knight), on the orders of Lord Stannis, reluctantly takes the Red Priestess Melisandre ashore where she gives birth to a shadow baby, the shadow which later assassinates King Renly Baratheon).
 
Carnlough (Braavos)
Visit the authentic Irish village of Carnlough and experience one of the most recent and topical locations in Westeros; Carnlough was catapulted to its Game of Thrones fame in the thrilling season 6. Relive the suspenseful moment when Arya, injured and fearful, desperately flees from the waif (or so it seems) and dramatically dives into the canal to escape the clutches of her bitter rival.

Glenarm
The last stop of the day before your epic Game of Thrones banquet will be a spellbinding visit to Steenson Gold and Silversmiths. These artisan jewellers are HBO's official makers of the the finery used in the show you can see Joffrey's crown, Margaery's necklace and other beatiful pieces used in the show at this captivating working museum.
Medieval Banquet & an Exclusive Night in a Luxurious Irish Castle (banquet available for groups of 10 and over only)

After following the coastal route, passing the scene of many local dramas, both recent and ancient, we will arrive at the Ballygally Castle Hotel, a stunning old castle which overlooks the golden sands of Ballygally Bay. The 400-year-old castle is the only 17th-century building still used as a residence in the North of Ireland today. This 4-star hotel has recently undergone a major refurbishment and is considered the finest hotel on the famous Causeway Coastal Route.
Enjoy a Game of Thrones inspired medieval banquet. The chefs use only the best of local produce to provide a wide range of culinary delights.
Spend the night in the luxury of Ballygally Castle Hotel and wake to the sound of the waves lapping on the beach.
Ballygally Castle is also the only official supplier of Steensons jewellery (the official jewellery supplier to Game of Thrones) outside of the Steenson studio and shop.
Day 2 – County Down:
8.00am It is time to say goodbye to Glenarm as we begin our departure from County Antrim, don't fear though, County Down, is also dark and full of terrors!
As we follow the Causeway Coastal route we drive past Magheramourne a location used for several Game of Thrones sets but perhaps most famously Castle Black and the Wall. Although not accessible by any tours, we will see Castle Black and the Wall standing in the distance as we drive past (daylight allowing).
In this landscape it is easy to imagine the true chill in the words "Winter is Coming" and to feel the fear of grumpkins, snarks, spiders big as 'ounds and all of the other things the Nights Watch stand ready to defend us from.

Shane's Castle (Tourney of the Hands)
This looming and desolate ruin brings us all the way back to happier times in season 1. King Robert threw a grand tourney for Ned to mark his new position as Hand of the King. The Tourney of the Hand was marked by our first glimpse of Gregor Clegane as he decapitated a horse, the first of many gruesome encounters we have since grown to fear him for.

Castleward (Winterfell)
Winterfell 20 scenes 'There's not been a direwolf sighted south of the Wall in 200 years' – Even as we venture south on our journey we remain in the North.Today you will visit Winterfell itself and perhaps meet the real life Direwolves used in the show. Able to howl on command and well used to photoshoots, this is a photo opportunity that you won't want to miss!

Audley's Castle (Whispering Woods)
Robb's army seeks refuge and hides here as part of his daring plan to thwart Tywin's forces at the Battle of the Whispering Woods. This helped to mark the Young Wolf as an adept commander and earned him a reputation worthy of respect.

Audley's Field (Oxcross)
Battle of oxcross, Robb meets Talisa, an integral moment in the story that leads to the fated and much mourned Red Wedding.

Inch Abbey (The King in the North!!!)
Robb is proclaimed the King in the North in a heart wrenching and poignant scene which escalates the War of the Five Kings into a war for independence. You can wander these mystical halls whose powerful stonework exude a power that certainly doesn't seem out of place in Westeros.

Tollymore Forest Park (Haunted Forest)
This expansive nature reserve will transport us to the exhilarating conclusion to season 2 as this area made its mark as the ominous Haunted Forest where the White Walkers began their march into the realm of men! These 600 hectares hold ancient redwoods as well as Gothic stone arches – the remnants of an 18th century estate. The despicable Ramsay Snow, or'The Bastard of Bolton' hunted Theon here, and it's where the Jon Snow and the Starks first discover the direwolf pups. Listen carefully; you might still hear their howls. The chilling wildling pit from the prelude to the first episode is also found amidst these majestic trees.
Valar Dohaeris "all men must serve",
and it was our pleasure to do so, until the next time!
And now this tour is ended!
 A Unique Perspective
Our guides have expert and unique knowledge* if the Game of Thrones TV show along with 'A Song Of Ice and Fire' books. Bursting full of opinions on everything from the reason why a certain location was used in the show to what really happened during  the Tourney at Harrenhal.
Meals

Lunch is included in this tour and bottled water will be available through the entire day. We would recommend "breaking the fast" with a hearty meal before leaving your accommodation; please note dinner is included in all tours which include a 'medieval feast'.
Sensible Clothing

Over the period of the day, which is really quite action packed, all the location stops add up to quite a lot of walking, at times on uneven surfaces so please do dress for the weather with sensible footwear for the tour and comfortable clothing for the activities.
An Inclusive Experience

This is an experiential Game of Thrones experience. To help you feel the atmosphere, we provide authentic costumes for photo opportunities but please feel free to bring your own cosplay costume with you if you wish. We fully understand the effort, time and care taken by many fans to create their own costumes and honestly we would love to see them.
[1] All our tour guides are fans of and have an excellent knowledge of the Game of Thrones TV show along with 'A Song Of Ice and Fire' books and are familiar with most, if not all, fan theories. They are always happy to chat with you about them.
This tour is independently operated by Northern Ireland Premier Tours, It is not sponsored by and in no way endorsed or affiliated with HBO.